I've called all sorts of spaces home: farmhouse, cape cod, bungalow, starter ranch, condominium, townhouse, gracious Victorian and renovated barn.
It's always home, if God is there.
My husband and I are low-budget do-it-yourselfers. We installed kitchen cupboards rescued from the curb. We tiled floors, sanded floors, painted floors, installed carpet and tore out carpet. We stripped and spackled and painted and papered.
Our current (and biggest) project is an 1800's post-and-beam barn. When it was made into a home in the 1970's, every post and beam was covered with drywall. When we found it, it was in foreclosure. We couldn't miss the negatives: bad paint and graffiti on the walls, holes in the floor tiles, sketchy electric wiring and a pile of dirt where the bathtub belonged.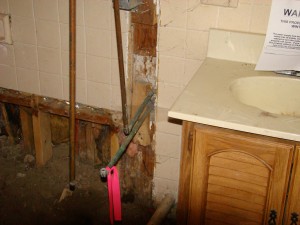 But the more we looked, the more we liked. The basic structure was sound. We sought it, we bought it. And 0ur first tool of choice was a crowbar.
With the help of a contractor, we hauled out seven tons of wallboard, 2x4s, tile, fixtures, carpet and doors. We got down to the original hand-hewn craftsmanship. The result: a rustic and quirky space, a home uniquely suited to us.
While we restored homes, God restored my soul.
I accepted Christ as my Savior at an early age, and I asked him to be Lord of my life in college. Truth is, I don't follow well. I got ahead of his plan, trusting my limited view instead of his eternal wisdom. The basic bones of my faith were solid, but I'd covered over them with cultural compromise, self-centeredness and pride. God's restoration removed the junk and made room for righteousness.
We're still working on our barn: baseboards, doors, landscaping. Our house is a work in progress. And so am I. God's still working on me.
I'm a wife (of a pastor), mother and grandmother. My day job is in hospital quality and safety. My ministry revolves around prayer, teaching and writing.
I offer constructive thoughts, not pat answers. Feel free to join the conversation.
Bless your soul!