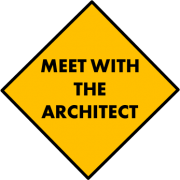 God and I don't always agree when it comes to my home.
Me: We just need to buy a few more things and the house will be perfect.
God: Money buys perfection? Really?
Me: Gotta clean. Company's coming, and I don't want them to think we live like this.
God: You do live like this. What happened to honesty?
God: Invite them over. Exercise hospitality.
Me: It's MY house. I want to enjoy it. ALONE.
God: What happened to sharing and an attitude of gratitude?

Of course, this is just me. You're never like this.